How do we stack up versus our competitors on Football prices?
The repetitiveness of a PR person in our space claiming their company offers the best price on an event is tiresome at best.
We are most likely all biased by our employment status, but what if the proof is actually in the pudding?
I spend a decent amount of time on the Oddschecker price grid for my own punting research. From these visits, I'm confident that Matchbook is more often than not the Best Price on Football versus our Exchange competitors and also competes favourably against the two tightest margin sportsbooks on the grid (Bet 365 & SBK)
I've taken a sample of some marquee fixtures below and will update you as the weeks' progress. Feel free to reach out on my own Twitter channel or on the @TeamMatchbook Twitter account if you have any feedback on these comparisons.
Barcelona (2.0) vs Napoli – Europa League
Time: 15:15 Day of the game
It was a game that ultimately ended in a 1-1 draw but a nice edge on Barca here, getting them at plus money while our competitors were at odds on prices.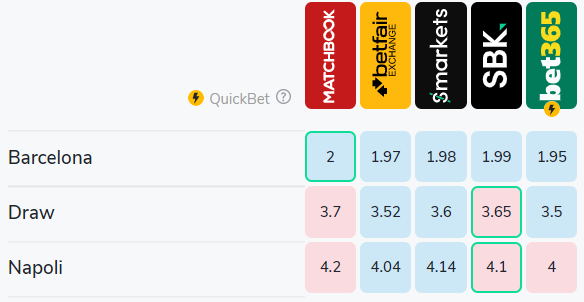 ---
Dortmund vs Rangers (9.4) – Europa League
Time: 15:23 Day of the game
There was a massive win for the Gers at the Signal Iduna and a lousy night for Matchbook layers as plenty got involved at the 9.2 on offer at Matchbook. What's even more noticeable here is the difference in price to Betfair.
A £50 bet at 9.4 at Matchbook would have returned you £31.60 more than if you had backed Rangers at Betfair Exchange
*(calculated at 2% net win commission)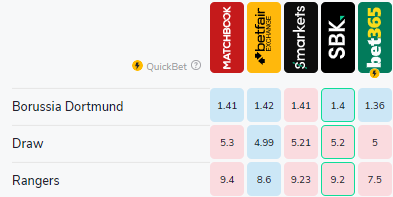 ---
Inter vs Liverpool (2.18) – Champions League
Time: 11:30 Day of the game
Jurgen Klopp's side were made to work for their 2-0 nil win in Milan, but Matchbook customers got a nice slight edge in their price vs our competitors.
There was plenty of 2.2 closer to kick-off, but for the interest of clarity, this was checked closer to lunchtime on the day of the game. We were the best price on the draw too, which was a runner up until Firmino's breakthrough goal.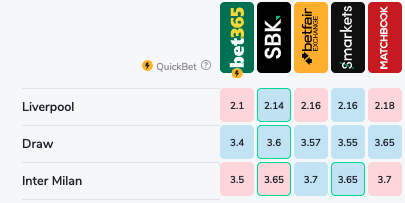 ---
Sporting (9.8) vs Man City (1.4) – Champions League
Time: 11:55 Day of the game
One way traffic in Lisbon for this one as Man City strolled to a 5-0 win. We were consistently Best Price on ALL outcomes of this game throughout the day but spare a thought for the bettors who backed Sporting here
---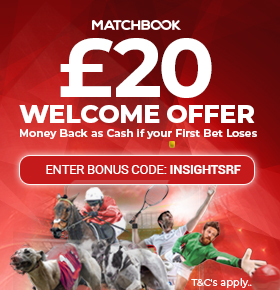 Bet Now
---
Matchbook's latest Football markets
The post Matchbook Consistently Best Price On Football vs Our Competitors appeared first on Matchbook Insights.
Are you looking for a safe, reliable, trustworthy sportsbook? Check out our ratings of the best sportsbooks and their current sign-up offers for new customers.
Read More